Are you tasked with planning the ultimate stag do for your best mate's party? Don't worry - we've got your back. We understand the pressure you're under to create an unforgettable experience, and we're here to help you create a weekend that will go down in history.
We know that planning a stag do can be stressful, with so many details to consider. You need to find the hottest stag destinations, plan epic stag activities, and come up with a prank that's both original and memorable. But don't sweat it - we've got the expertise to take care of it all.
We'll handle everything from arranging accommodation and transportation to ensuring you get the best deals around. Plus, we'll take care of the all-important stag prank - so you can sit back and relax, knowing that every detail has been taken care of.
At our company, we don't believe in a one-size-fits-all approach. We'll work with you to create a tailored stag weekend that's designed to meet your group's unique needs and preferences. And with our fast response times, you can rest assured that you'll get the information you need in record time.
So why stress about planning the ultimate stag do when you can leave it to the experts? Contact us today to get started on the journey to the ultimate stag weekend.
In 2023, EASTERN EUROPE is back in stag business!
Life in Poland, Czech Republic, Hungary and Slovakia is 100% back to normal. Since March 2022, all restrictions have been lifted. There is no quarantine after arrival. No tests are required. Travel is easy, covid passes are not required for anything. Still, for those worried, we decided to prolong our 25% refundable deposit policy till the end of 2023. So worry not. Price, prices in Prague and Budapest went up quite a bit due to inflation, so we advise you to pick Krakow, Gdansk or Warsaw over Prague or Budapest for your 2023 Stag Weekend.

ORGANIZING STAG DO ACTIVITIES SINCE 2006 - ABOUT
Established over 16 years ago, Corpoland.com is a long-established, trusted, local stag activities provider. We have created and organised stag weekend activities for the biggest international stag companies. JGA in Germany, EVG in France, Bachelor Parties and Stag Dos - however you call it, we have done it.

BOOK LIKE A LOCAL, PAY LIKE A LOCAL
Local supplier, local prices, direct bookings, fast responses, great communication, no hassle and no middleman. We will make your stag weekend organization as easy, and stress-free as possible. Based in Poland, we are the experienced dream team of local stag experts. We will tell you what you need to go for and what to avoid in your chosen stag destination. Airport transfers, best shooting ranges, VIP clubbing packages, quads, rafting, party buses, longest stretch limousines ... local insights and local knowledge are just a few reasons to book with us. Unbeatable experience, lowest prices, low 25% deposits, top-notch comprehensive service, easy online payments, no small print and no extra charges are a few more.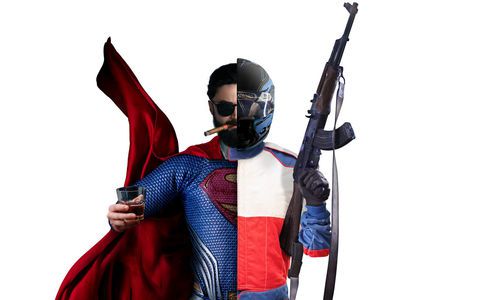 BOOK DIRECT. PAY LESS
Organizing stag do activities in Poland, Czech Republic and Hungary since 2006, Corpoland.com for many years has been a first - choice supplier of stag weekend activities to many well-known brands within the stag industry. Booking direct with us in Poland, you skip the middleman, and save money. You get exactly the same people to organize your stag, same guides, same activities and same high quality service at a much lower price without a hefty middleman cut. Click here to see why and how much you can save.

Now in 2022, corpoland.com has own branches and employees in top stag weekend destinations - Prague, Budapest, Bratislava (soon), Krakow, Gdansk, Wroclaw, Warsaw (Warszawa) and Poznan. We organize each party from A to Z - with our own carefully selected guides, trusted suppliers and 2-way transportation from your hotel. As a result of over a decade of experience, what sets us apart from other stag companies are competitive prices, comprehensive services and stress-free experience.
BEST PRICE GUARANTEE
Having 16+ years of experience and hundreds of long-established relations with local suppliers, we are sure you will not find a better match to our supercool high quality activities. That's why we can offer LOWEST PRICE GUARANTEE. Should you find exactly the same offer cheaper, we will match the price and throw in a big bottle of polish-style surprise. It is impossible.
SAFE E.U. TRAVEL PROTECTION
For tax reasons, most stag companies are based in a non-EU country ( e.g. Switzerland ). It means EU regulations do not apply and you are in fact not covered in case of turbulence. Corpoland.com is a long-established ( est. 2006) family company based in Poland in E.U, obliged by law to be fully operating within E.U travel safety regulations. Unlike non-EU based companies ( U.K, Switzerland etc. ), we are required by law to return all your monies or issue a voucher, in an unlikely case that due to COVID-19 the organization of your activities will be impossible.
FAST,

NO OBLIGATION BOOKINGS
Your initial reservation has no strings attached - You have time to modify, change numbers, dates, activities, cancel or confirm. Hassle free. First, secure a chosen date for your group with a non-obligation reservation. Once we receive your booking, we'll pre-book the dates and guide you step by step through the process. As easy and fast as possible. Oh, and we reply really fast. Usually within 2 hours.

Book your Stag Weekend with a trusted local organiser. Save 20-50% over middlemen. We provide them anyways.
Top stag destinations in 2023
Are you on the hunt for the ultimate stag weekend destinations in Europe? Look no further! We've done the research and have come up with the top stag destinations to make your bachelor party one for the books. From Krakow to Budapest, we've got you covered.
First up is Krakow - a city that offers the perfect blend of rich history and modern entertainment. The city is filled with pubs, clubs, and bars that cater to every taste, and the local cuisine is unbeatable. For those seeking a cultural experience, Krakow has you covered with its beautiful architecture and stunning old town. ☞ Krakow stag do activities
Next on the list is Gdansk, a hidden gem of a city with a lively nightlife scene and picturesque waterfront. This city offers everything you need for a memorable stag weekend, from adrenaline-fueled activities like quad biking and shooting to more relaxed pursuits like sightseeing and enjoying delicious local cuisine. ☞ Gdansk stag do activities
Warsaw is another city that's not to be missed, with its vibrant nightlife and rich cultural heritage. This bustling metropolis has everything from high-end restaurants to underground clubs, making it the perfect destination for a stag weekend that's both stylish and fun. And, unlike some other European destinations, Warsaw's prices haven't risen as sharply - making it a more affordable option for your group. ☞ Warsaw stag do activities

Wrocław, much like Warsaw, is a city that offers an unmissable experience, boasting a lively nightlife and a deep-rooted cultural legacy. This dynamic urban center caters to a wide range of tastes, from upscale dining establishments to hidden subterranean venues, ensuring a stag weekend that combines sophistication with enjoyment. Moreover, in contrast to certain other European locales, Wrocław's costs haven't surged dramatically, rendering it a more budget-friendly choice for your group. ☞ Wroclaw stag do activities

Poznań is yet another city that should be on your radar, showcasing a vibrant nightlife scene and a wealth of cultural heritage. This bustling city offers a diverse array of experiences, from top-notch dining options to eclectic underground venues, making it an ideal destination for a stag weekend that's both refined and entertaining. Additionally, unlike some other European hotspots, Poznań's prices haven't experienced such steep inflation in 2022/2023, making it a more wallet-friendly option for your group. ☞ Poznan stag do activities
If you're looking for a destination that's a little farther afield, Prague is a fantastic choice. This city is known for its beautiful architecture and legendary nightlife, with bars and clubs that stay open until the early hours of the morning. And with a range of activities on offer, from river cruises to beer tours, you're sure to find something to suit your group's taste. ☞ Prague stag do activities
Finally, Budapest is a stag destination that should definitely be on your radar. This beautiful city is known for its thermal baths, lively nightlife, and stunning architecture. And with its range of unique activities, like indoor paintball and escape rooms, your stag weekend is sure to be a memorable one. ☞ Budapest stag do activities
But which city is the best of the best? According to our research, Krakow, Gdansk, and Warsaw are the top stag destinations, as they offer a perfect combination of entertainment and affordability. Keep in mind, availability is limited do do not wait till very last minute and start planning your ultimate stag weekend now.

Is Poland good for a stag do?
Poland is a vibrant country with a rich history, beautiful architecture, and delicious cuisine. It is also becoming a popular destination for stag weekends. Here are ten reasons why Poland is the best choice for your 2023 stag weekend:
Vibrant nightlife: Poland is known for its exciting nightlife with a variety of bars, clubs, and pubs. Warsaw, Krakow, and Gdansk are the most popular cities for nightlife, offering a diverse range of options to suit every taste.

Affordable prices: Poland is a great destination for those on a budget. The cost of food, drink, and accommodation is much cheaper than in many other European countries, making it an attractive option for stag weekends. It is also cheaper than Prague or Budapest.

Delicious cuisine: Polish cuisine is hearty and delicious, with dishes like pierogi, kielbasa, and bigos being among the most popular. Stag parties can enjoy local food and beer at reasonable prices.

Shooting ranges: For those looking for a unique and thrilling experience, Poland offers various shooting ranges, where stags can shoot firearms and compete with each other.

Good-looking friendly girls: Poland is famous for its beautiful women, and many stags are pleasantly surprised by the friendliness and approachability of Polish women. Whether it's a night out on the town or a daytime activity, stags are likely to encounter friendly and attractive locals.


Good quality beer and beer spots: As previously mentioned, Poland has a rich tradition of beer brewing, and the quality of its beer is among the best in Europe. Stags can enjoy a variety of local beers at bars and pubs throughout the country. Additionally, Poland has many trendy and unique beer spots, such as craft breweries, beer gardens, and historic bars.


Price to quality relation: One of the most significant advantages of Poland as a stag weekend destination is the price to quality relation. The cost of food, drinks, and activities is considerably lower than in many other European cities, while the quality of service and experiences is high. Stags can enjoy a great weekend without breaking the bank.


Brewery tours: Poland has a rich tradition of beer brewing, and stag groups can enjoy brewery tours, tastings, and learning about the history of Polish beer.

Historical landmarks: Poland has a rich and fascinating history, and many cities have beautiful and historic landmarks such as the Wawel Castle in Krakow, the Royal Castle in Warsaw, and the Old Town in Gdansk.

Adventure activities: Stags looking for a more active weekend can enjoy hiking, mountain biking, and white-water rafting in the beautiful Polish countryside.
In conclusion, Poland is an excellent destination for a stag weekend, offering a variety of exciting activities, delicious food, and a vibrant nightlife at an affordable price. With its rich history and cultural experiences, Poland has something to offer for everyone.
How to organize a stag do in Poland?
Organizing a stag do can seem daunting, but with some careful planning and preparation, it can be a smooth and enjoyable process. Here are some steps to help you organize a successful stag weekend in one of top polish destinations:
Compare and choose: Start by selecting a stag-friendly destination that suits your group's interests and preferences. Some popular stag destinations in Poland include Krakow, Gdansk, Warsaw, Poznan, and Wroclaw.

Set a budget: Determine how much each member of the group is willing to spend on the weekend and set a budget accordingly. Be sure to factor in expenses like transportation, accommodation, and activities.

Plan the activities: Plan a range of activities that are tailored to the interests of the group. This might include activities like paintballing, go-karting, beer tasting, or even a brewery tour.

Book accommodation: Research and book suitable accommodation for the group, taking into account factors like location, price, and group size.

Arrange transportation: Make sure you have reliable transportation to get to and from the airport. Arrival sets the mood for the entire weekend so it is superimportant.

Consider the stag's preferences: Be sure to take the stag's preferences into account when planning the weekend. This might include activities or experiences that the stag has always wanted to do. Still, check what the lads like. But he comes first.

Plan the pranks: Stag weekends are often known for the pranks that are played on the stag. Plan some fun and lighthearted pranks that will make the weekend even more memorable. We have supercool pranks - Dominatrix in Krakow, Sexy maid in Gdansk or stag's kidnapping, dwarf in Wroclaw

Make reservations: Book any restaurants, bars, or activities well in advance to ensure you have a spot.

Have a backup plan: Always have a backup plan in case anything goes wrong or activities are canceled.

Communicate with the group: Keep the group informed and involved in the planning process. This will ensure everyone is on the same page and excited for the weekend ahead.
By following these steps and keeping an open mind, you can organize a stag weekend that is enjoyable, memorable, and tailored to your group's unique interests and preferences.