GDANSK – LAST UNSPOILT STAG DESTINATION
Gdansk is Poland's largest seaside city, it's a symbol of freedom (it is where the Solidarity movement was born) and a place where tradition mixes with lookout for the future.

Cheap flights have recently turned Gdansk into a new and vibrant epic stag do destination. It is becoming more and more popular and we are not even slightly surprised as Gdansk has it all! Together with Sopot and Gdynia they form Tricity, a metropolis with a different touch and atmosphere in every district. In Gdansk's Old Town you will find historical sites, charming tenement houses and the best restaurants. Sopot is a party town with excellent clubs and parties on the beach. Gdynia has modernist architecture, great pubs and hipster cafes. Tricity stretches on the seaside, with the beach connecting its three parts and a great spot to chill out and beat your hangover.

Because Gdansk has been discovered as a stag do destination only recently, it is still relatively unspoilt. Choose it for your epic stag weekend and you will not regret it!

Gdansk has many top-notch restaurants, in the Old Town and beyond. We will be glad to recommend the best ones or organize your dinner of a lifetime with a strip show for dessert – STEAK DINNER STRIP SHOW. Just for connoisseurs! In need of an adrenaline rush to the head? We are ready with many activities for real men, such as an afternoon at the best shooting range in Tricity where you can meet the star of the communist Red Army, the legendary AK 47 Kalashnikov and feel its might. Choose AK 47 KALASHNIKOV SHOOTING RANGE for this experience. And for the night? Pub crawls, strip clubs with the most beautiful strippers and hilarious pranks for some laughter. We can even spice up your airport transfer – check our offer and a boring taxi ride will be the lamest choice.

Let's go through this once again:
Hip pubs with cheap booze? Checked.
Delicious food? Checked.
The beach? Checked.
Vibrant nightlife? Checked.
Gorgeous girls? Checked.
Adrenaline? Checked.
Laughter? Checked.
We were not kidding – Gdansk does have it all!

WHAT TO DO IN GDANSK IN 2 DAYS?
Gdansk has a lot to offer. It's a beautiful vibrant city full of people, boats, party animals. It would be a sin to be in Poland and not to check out what Tricity has to offer – be it the Old Town in Gdansk, the main streets of Sopot packed with cafes and pubs or the Marina of Gdynia. However, if you only have 2 days and plan to spend most of your time having fun with the local chicks, enjoying stag activities, shooting live ammo and partying till dawn, here's what we recommend to do in Gdansk in 2 days:
Take a party bus to Sopot to the party area.

Book a booze cruise party boat activity to see the sights.

Buy a trip to the Gdansk shooting range and shoot some AK47.

Take a walk around the Old Town and Marina. Gdansk is great wherever you go.
*Wiki note: Gdansk is one of the most beautiful cities in Poland.

IS GDANSK GOOD FOR A STAG DO?
Gdansk is one of the best stag locations in Europe and a very good choice for your stag do. Discovered as a top stag destination only recently, Gdansk is one of very few unspoilt stag-friendly cities in Europe.
Hip pubs with cheap booze? Checked.
Delicious food? Checked.
The beach? Checked.
Vibrant nightlife? Checked.
Gorgeous girls? Checked.
Adrenaline? Checked.
Laughter? Checked.
Gdansk does have it all!

HOW EXPENSIVE IS GDANSK?
Gdansk is usually less expensive than other E.U stag destinations. 50% cheaper than Amsterdam, Berlin, or Barcelona. 10 % cheaper than Prague or Budpest. A big mac menu ( a common comparison factor ) costs roughly 4 EUR ( 3 GBP). A 4-5 star hotel can be as low as 100 EUR/room.

HOW MUCH IS BEER IN GDANSK?
As per 2020, a pint of beer in Gdansk is from 1,5 to 3 GBP.

CAN YOU USE EUR/GBP IN GDANSK?
You cannot use EUR or GBP in Gdansk so make sure you have local currency or a card.

OUR GDANSK OFFICE ( by appointment only)
Słowackiego 149, 80-281 Gdańsk

GDANSK AIRPORT TRANSFERS
First thing you need to sort to start your stag do in style is a reliable fun airport transfer.
Gdansk has one international airport; GDN ( Lech Walesa Airport). It is located approximately 30 minutes away from Gdansk City Centre - time of your transfer will depend on traffic though. We recommend the following options for groups of 6 or more.
Party Bus Gdansk Airport Transfer - great for groups over 10.

Strip Limousine Gdansk Airport Transfer - limos accomodate any group size.

Private Minibus Gdansk Airport Transfer - private! Add sexy stripper (or two!) to make it proper.
Each of Gdansk airport transfer options includes free meet-and-greet service by one of our friendly female guides and loads of stag-friendly features. It can be upgraded with onboard entertainment and drink packages.
There is a public bus transportation going direct, though with quite a lot of stops, to Gdansk city centre. A good option to those on a budget.

GDANSK STAG DO GUIDE
A bunch of most common questions and local expert tips and to make your visit in Gdansk safe and fun.
IS GDANSK SAFE TO VISIT?
Yes. Gdansk is a very safe stag destination, people are superfriendly, beer is cold and girls are hot.
HOW NOT TO GET SCAMMED IN GDANSK?
As a popular tourist destination, Gdansk has some traps that you need to look out for. It is still nothing compared to Prague or Budapest! But keep your hair on, we're here for you! Read our tips below for a safe stag weekend.
TOP 3 TOURIST SCAMS IN GDANSK
Taxis – The taxis waiting at the airport or at your hotels will very likely be the most expensive. Their drivers wait for disoriented drunk tourists who do not know the city and have no idea that they are taking the scenic route to their destination or that the night tariff is on although it's the early afternoon. It is always best to ask how much a given ride should cost at your hotel reception and ask the receptionist to order you a taxi from a trusted corporation. It is also a good idea to use an app such as Uber which tells you the price of the ride upfront.
Pubs – In the evening, when you go to the Old Town to find a nice club, a lot of the venues will have a marketer outside encouraging you to come in. Our advice? Stay away from there! You might come across one or two clubs that are OK but most of those places will rip you off with very expensive booze (often watered down!) and low-quality food. Stay vigilant and if you want to make sure that there are only selected tried and tested value-for-money venues on your way, choose one of our deals to guarantee a night with no regrets. Our lovely party guide will pick you up from your hotel reception and take you on a PRIVATE PUB CRAWL to remember. On the way she will share her own pro-tips and recommendations.
Gdansk Strip clubs – They are the most risky business so be all eyes and ears and keep an eye on one another. Strip clubs are not places to get wasted alone so for starters control your booze and do not leave any man behind. But if you are having a blast and there are no fishy situations, by all means – go on! Nonetheless, here are a few budget safety tips to stay on the right track: only pay by cash (it is better not to take your credit and debit cards to these venues at all), check and agree on prices of drinks before you place your order (especially the drinks that you buy for the strippers – somehow they are always the most expensive) and always make sure your wallet is in a safe pocket.
Sorry if we sound a bit dramatic here. Our aim is not to scare you that that every person in Gdansk will try to rob you but there are a few things that are easily forgotten in the heat of the night and a reminder always comes in handy.
Finally, a bunch of info that might not be as obvious as the rip-off tips. The servers are very good and friendly. However, tips are not usually added to your bill so it is nice if you leave ca. 10% in cash for the service. Toilet signs may be confusing – it is a triangle for men's toilet and a circle for women's toilet. Currency exchange – do not exchange your money at the airport or in the hotel as they usually have the worst rates. It is best to take PLNs out of the cash machines or use your REVOLUT. If you definitely need to exchange cash, use small private currency exchange points in the city centre.
Now off you go to look up a flight to Gdansk. We guarantee that your Gdansk stag do will be epic and one of a kind. Once you book your tickets, come back to our website to check out airport transfer deals. Do you know that boring taxi rides are not your only option? We offer party transfer service in luxurious limousines or on board of a party bus, with booze and strip shows. Your epic Gdansk stag do weekend is just one click away!
GDANSK NIGHTLIFE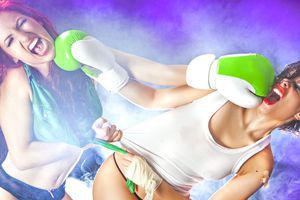 Gdansk's Old Town is not the only place where the locals have fun. Gdansk is a part of the so-called TRICITY ( 3 cities - Gdansk, Sopot and Gdynia) Gdansk has a beautiful old town with plenty of pubs and places to eat, but best nightlife is in Sopot, which is about 15-20 min drive. Some people are fine with taxis that are not too expensive. However, to spice up your stag, consider a Gdansk limousine, Gdansk Party Bus or Gdansk Gold Party Bus, that you can rent per hour to take You in style from Gdansk pubs to the clubbing area in Sopot.
It's not easy to find Gdansk and Sopot's best hidden gems. It IS easy to end up in one of many tourist ripoff spots that will waste your precious evening and ruin your experience. Therefore, we strongly recommend to book ( at least for the first night out) a private (no other males involved) Gdansk Pub Crawl. Local Knowledge, and local guides, are necessary to make your party weekend in Gdansk fun and safe - so you can relax and not look over your shoulder at all times. A few simple tips such as "Never use your credit card in a strip club" might save you thousands of Euros. So 20 EUR/ person is definitely worth it. Not to mention our female guides are pretty, supernice, and speak fluent english, deutsch and francaise.

TOP 5 GDANSK STAG ACTIVITIES
1.
BOOZE CRUISE
2.
STAG STRIP DINNER
3.
QUAD BIKING
4.
OIL WRESTLING
5.
DOMINATRIX
Stag+1 go free .
We have been present in Gdansk since 2006, providing stag activities to major international stag companies for over 15 years. In 2020 our legal obligations have expired and now we finally can provide all activities directly, without middlemen profit margin. As a result you pay less for exactly the same service. By the same people.

GDANSK STAG DO IDEAS
Welcome to Gdansk - a perfect stag destination not only in the summer. Full of top stag ideas and activities - indoor shooting ranges, top clubs, party buses, crazy water sports, beaches, bikinis, cold beer and loads of other stag- friendly options ... There are hundreds of reasons why Sopot, Gdansk and Gdynia (due to proximity called Tri-city) are 'invaded' every weekend by hordes of Norwegians and Swedes who take advantage of favourable exchange rates and spend their pocket money on pleasures for the body and soul. Hard to blame them, considering low activity prices, high quality services and hot polish girls.